Handicap adjustment when competing from different tees
How does a tournament committee make competition fair when golfers play from different sets of tees or men play women from the same set of tees?
Don't player handicaps make play fair?
It is important to note, right at the start, that golf handicaps level the playing field when competing from the SAME tees. Comparing scores posted from the same tee is analogous to comparing apples to apples (unless it is mix-gendered competition). Handicaps in golf, though, do not level the playing field when players golf from different sets of tees or from the same tee with different Course Ratings (i.e., men and women's ratings). Comparing scores from different sets of tees or different Course Ratings is like comparing apples to oranges.
Making play fair
In order to make competition from tees with different Course Ratings fair, an adjustment to players' Course Handicap must be made. An upward adjustment in handicap for players playing from tees with higher Course Ratings or a decrease in handicap for player playing from tees with lower Course Ratings can be applied.
Rule of thumb
When golfers compete while playing from tees that have different Course Ratings, either add OR subtract strokes...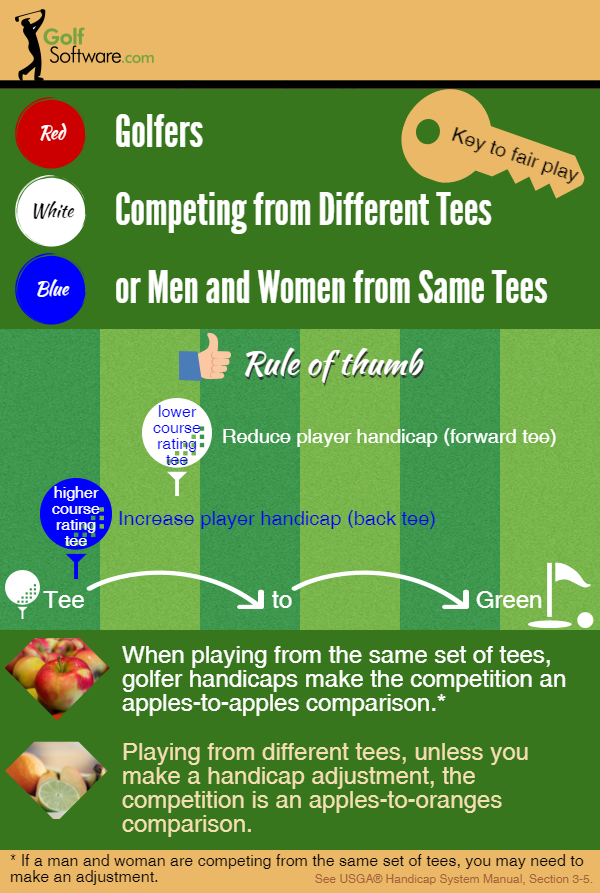 Two-player example
In this two-player competition, Fred plays from the Blue tees and Tom plays from the White. In a simple situation where you just have two players, the USGA recommends adjusting the Course Handicap of the player playing from the tees with a higher Course Rating. In this case, Fred is playing from the Blue tees with the higher Course Rating of 71.3, so you would add the difference in Course Rating (rounded to nearest whole number) to Fred's Course Handicap of 12.
Blue Course Rating - White Course Rating = Difference in Course Rating
71.3 - 68.7 = 2.6 rounded to 3